Mailbox Problem?
Has your roadside mailbox been
vandalized
in the past?
Have you ever tried to convince someone that you
never received
a bill from them or that you
really did send
in a payment to them?
Are you concerned with mail
theft
or even identity theft?


If you would like
a
safer
, more
secure
, yet still
convenient
and reasonably priced, alternative way to send and receive your mail you've come to the right place.


Mailboxes-R-US can offer you the solution.

We install, maintain and lease Cluster Box Units (CBUs).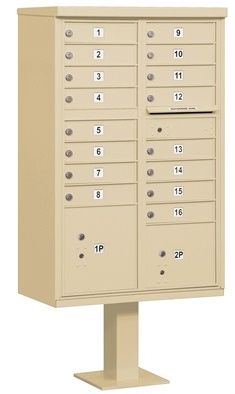 A USPS approved mail receptacle, the Cluster Box Unit (CBU) is freestanding, constructed of aluminum and stainless steel and has a rugged, weather resistant powder coat finish. The CBU contains 16 locked mailboxes along with 2 parcel boxes and 1 outgoing mail slot.
Mailboxes-R-US (MBRUS) works with the Postmaster and the necessary permitting offices for approval to place Cluster Box Units (CBUs) along the USPS Mail Carriers' route. Once a CBU is installed by us, we maintain the unit, rent mailboxes to area residents at a reasonable rate and notify the Post Office of the name and physical address of each occupant assigned. If the unit becomes unservicable for any reason, we replace it.
Use the Links here or on the upper left of the page to see more information on renting a mailbox in a CBU, the price and contract, locations of CBUs placed and those in the works. Contact us if you are interested in renting a box or to recommend a location to have a CBU installed.